For this project, we worked with a leading pump manufacturer to provide a two-cavity mold with both hydraulically controlled unscrewing cores and hand loaded inserts. Unscrewing mechanisms can come in several forms. Deciding on which style to use depends on part design, cavitation requirements, and budget. Below is a list of the different options for creating internal threads in a molded part.
Stripping
Hand loads
Collapsible core
Mechanical spline
Rack and gear assembly
Servo Driven
Working with our customer and looking at the options noted above, we settled on a hybrid of two unscrewing systems. For the NPT thread on the side of the part, several rotations were required to remove the core completely from the molded part. Having a high number of rotations can eliminate the possibility of using a spline and gear mechanism, simply because the number of rotations of the core is directly related to how far the mold opens. On the other end of the spectrum, the cost of a servo-driven system was out of budget for this project. Check out the video below on how the mechanism works.
The top of the part contains another NPT thread, which is hand loaded by an operator. The added challenge of this hand loaded insert, is the runner system that is integrated into the hand load. When molding round parts, it's ideal to have multiple gates arranged concentric to the part.  This filling pattern allows for uniform fill and the ability to push the air out to the parting line.  A gate on one side of the part, can cause the part to have an undesired warpage condition, which can make the part oblong instead of round.
To overcome this, we made a small runner system in the hand load. This achieves optimum fill and also shears the gates clean as the operator removes the hand load from the finished part. In the image below the molded part is blue, the insert is green, and the small runner system is orange.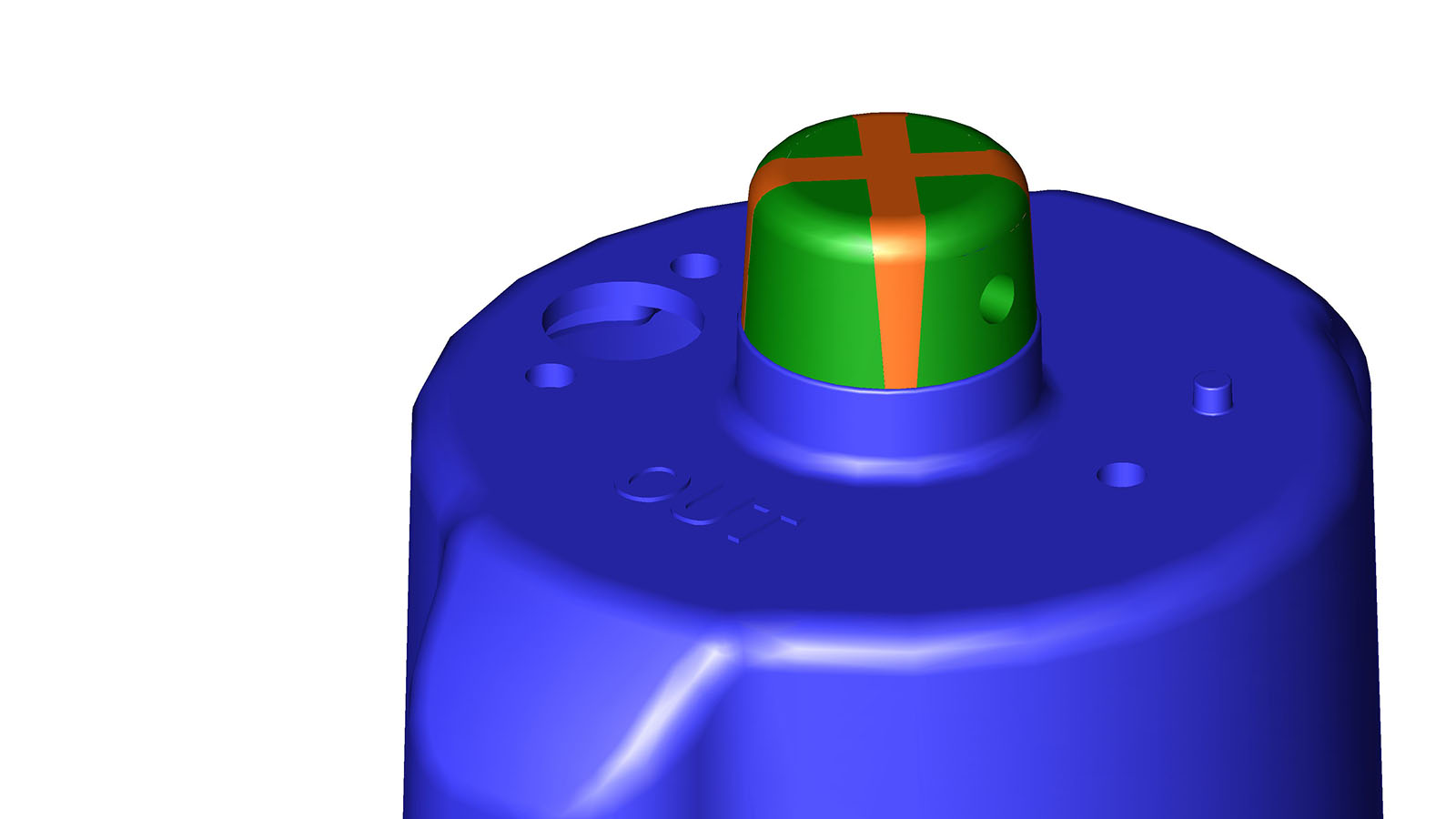 Working with our customers to provide solutions that fit their needs is what we do best at Basilius. Although there are several alternative designs for this mold, working with our customer in the design phase yields many advantages. This allows us to provide a solution that meets their manufacturing expectations while staying within their budget.